##DEMO UNIT## GOOVIS G2 Virtual Reality Travel 3D Theater VR Glasses HD Giant Screen Advanced HD 4K Sony OLED Micro display
Brand:
GOOVIS
Product Code:
180351
Availability:
Auckland Showroom: 1
Wellington Showroom: 0
Logistics Centre: In Stock
$699.00
$1,299.00
Ex Tax:

$607.83
Term Selector

Get It Now from
$ per week

Online Application
(click here)
Meet the Most Advanced & Immersive 4K Cinema Headset
The Goovis Cinego is the 4K headset which can replace any home theatre, TV, or smartphone for video viewing with an easy to setup, easy to use, and easily portable integrated headset.
The Cinego puts you in your own personal theatre and displays a clear, precise, and sharp picture in 4K. You can stream YouTube, Netflix, and any movies you've saved to its internal memory or connect any gaming system and immerse yourself in everything from your PS4 to your Nintendo Switch.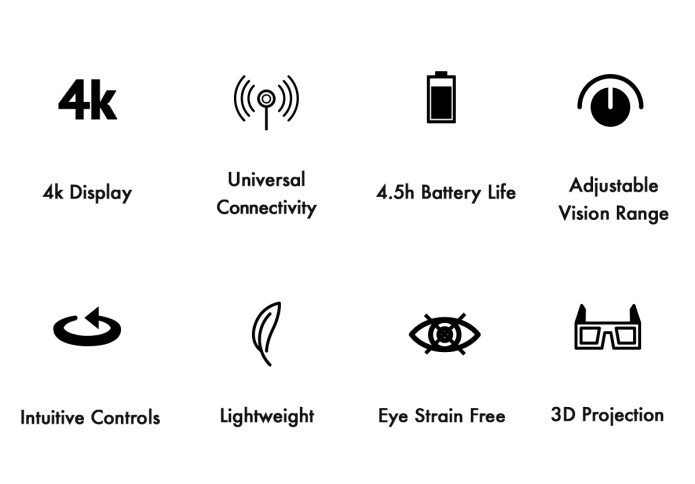 Revel in total privacy provided by your own personal theatre. Just plug your headphones in, turn on Goovis Cinego and transform any room or seat in your home into an immersive and private theatre filled with your favourite content.



Goovis Cinego uses twin M-OLED 1920 x 1080 displays measuring 0.7 inches with a PPI of 3147. This means the Cinego has 7x the pixel density of larger M-OLED devices such as the iPhone X to provide you a clearer, smoother and more detailed picture quality. 


The twin M-OLED displays were designed by SONY for the Cinego to provide you with the highest clarity and best visual experience we could.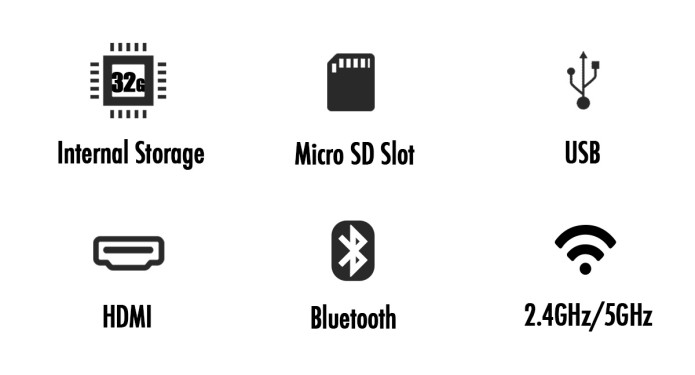 32 GBs of Internal Storage and More
Goovis Cinego comes with 32 GB of internal storage, allowing you to upload and download all of your favourite movies, pictures, games, and apps. And if you're low on storage space, the Cinego comes with an SD slot for added memory, supporting up to 256 GBs of additional space.
USB
With the USB port you can connect everything from flash drives or your PC to video game controllers and speakers for added functionality and sound. 
WiFi or Bluetooth with smart Android system
Connect to WiFi or Bluetooth to stream Netflix, Hulu, Amazon, Youtube or any other Android apps you can think of with perfect clarity and in the highest resolution.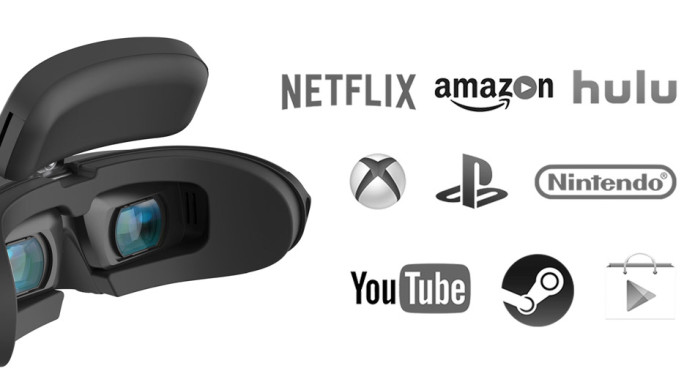 HDMI
Connect all of your gaming systems through HDMI, from XBox One and PS4, to your Nintendo Switch and enjoy a totally engaging gameplay experience in your personal theatre.
You can even connect any of your drones, whether airborne, wheeled, or submersible with HDMI to the Cinego to see the world see exactly what they're seeing.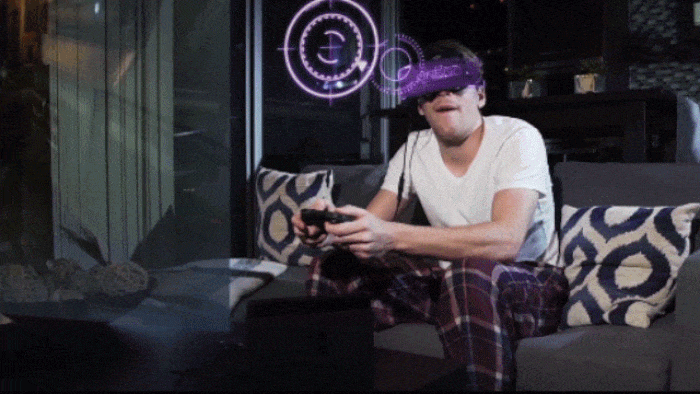 Sit back and enjoy your favourite content without worrying about being plugged in, running out of cord length, or tripping over any wires. Equipped with a Polymer Lithium battery, Cinego gives you 4.5 hours of continuous play.
And the powerful battery sits in the remote you hold in your hand and not the headset, reducing the weight on your head.

Enjoy a Glasses-Free Experience    
With Cinego's adjustable vision range you can perfectly set your display for your eyesight to an accuracy of +/-0.33D.  So you won't have to wear your glasses to enjoy your beloved content or have to deal with double vision, bad contrast, dizziness or eye strain again.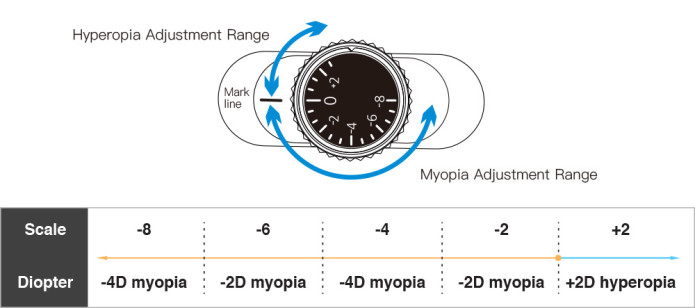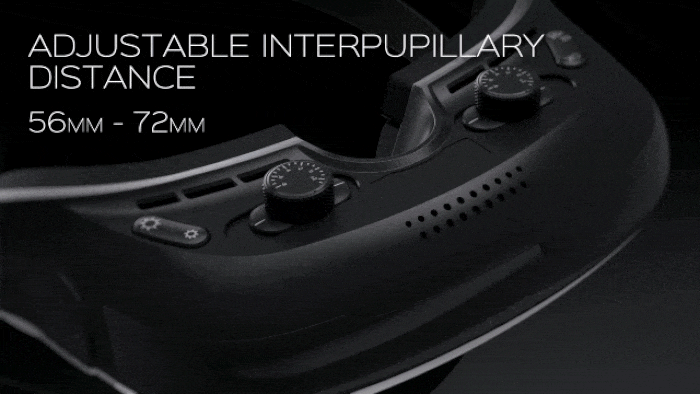 Ultra Light - Only 200 gram

Weighing just 200g (1/3 as much as other headsets OR as much as a pair of professional Ski Goggles) the Cinego is the lightest headset to hit the market. Its low weight ensures there is no strain on your neck or head. This is made even more comfortable by the soft band and felt eye and forehead cushions.
Perfect for Home, Travel, and Anywhere else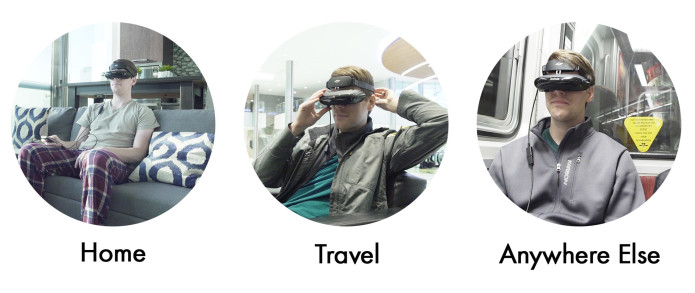 Designed to Prevent Eye Strain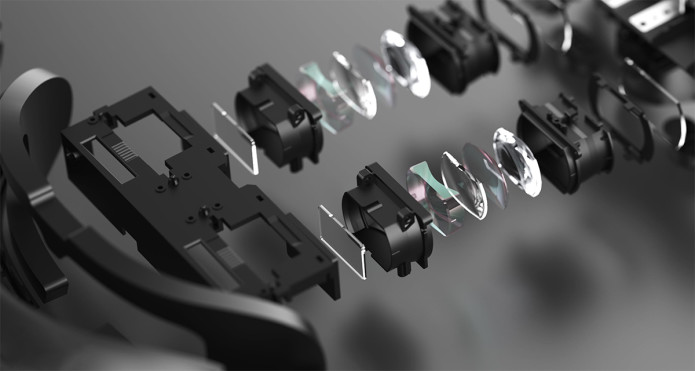 Stay engaged for hours in everything you love without straining your eyes. Cinego uses an AMOLED display to lower your exposure to shortwave blue light. Its unique and enclosed design also limits screen glare unlike laptops, smartphones or TVs. Cinego further reduces eye muscle strain by projecting the virtual screen at a distance of 20 meters, mimicking real-world theatre displays.

An Intuitive Remote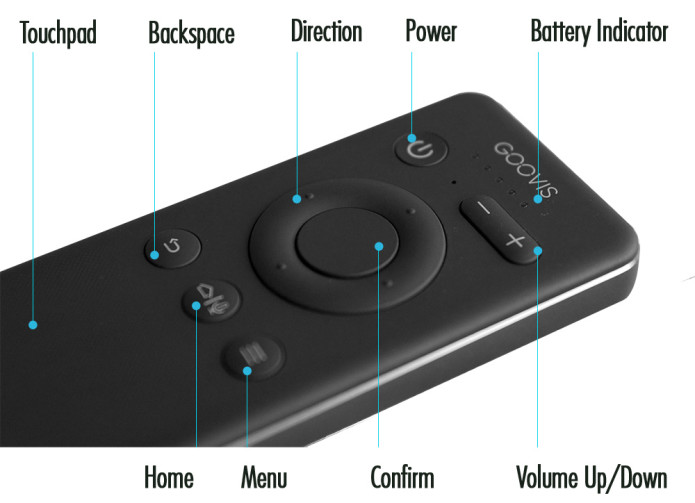 Control every function, app, and movie with Cinego's intuitive remote. Use the D-Pad for instinctive tracking or switch over to the touchpad to activate the mouse for precise movement.
Hands-Free Arm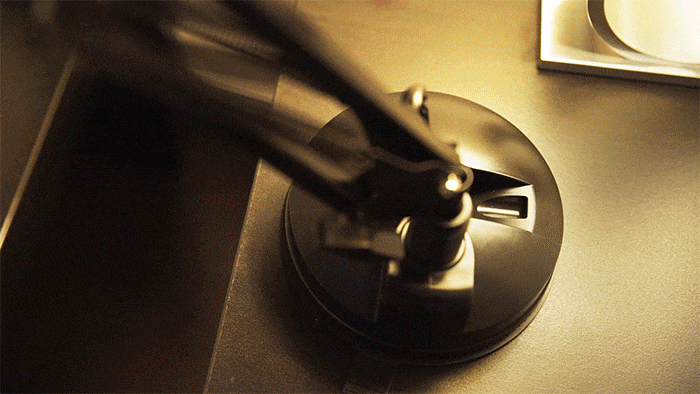 You don't have to wear your Goovis Cinego if you don't want to. With the hands-free metal arm you can enjoy the Cinego without even putting it on, whether you're standing, sitting or lying down in bed. The strong rubber suction bottom attaches to any flat, clean surface, and detaches with a  simple pull of a lever.



The Hands-Free Arm will also come with an attachment for your phone or tablet so you can use it with other devices, not just the Cinego.
 

3D Compatible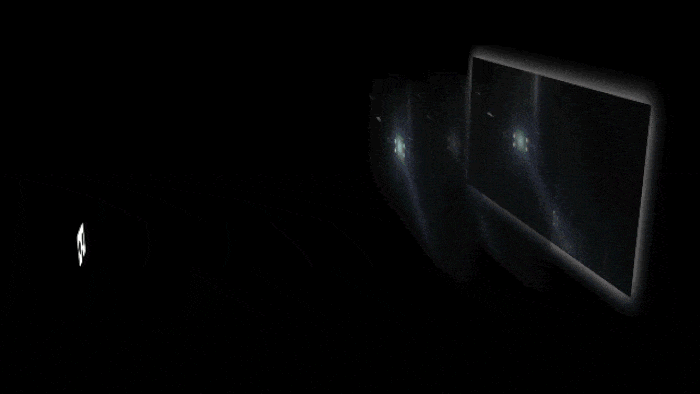 There's no compromise on your viewing experience with Cinego's built-in 3D functionality. From 3D video games to movies, you can enjoy it all.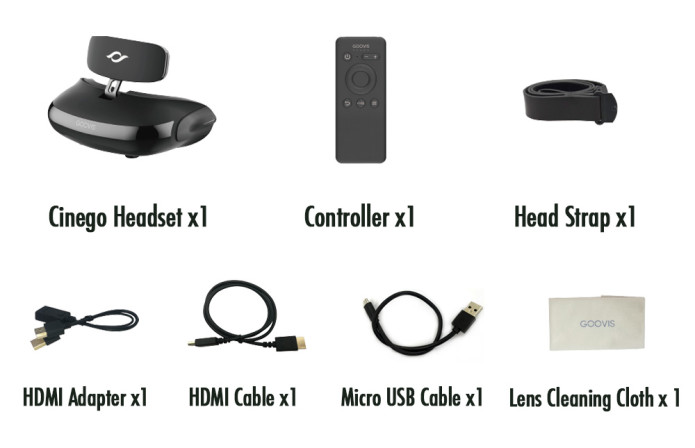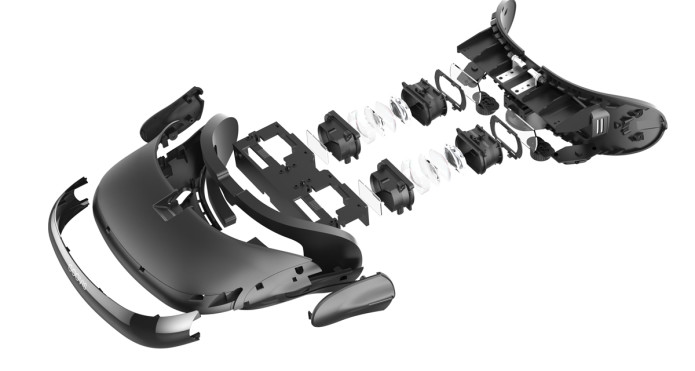 Display Info:
Display: 2 x 0.71" AMOLED micro-display
Resolution: 1920x1080 x2
PPI: 3147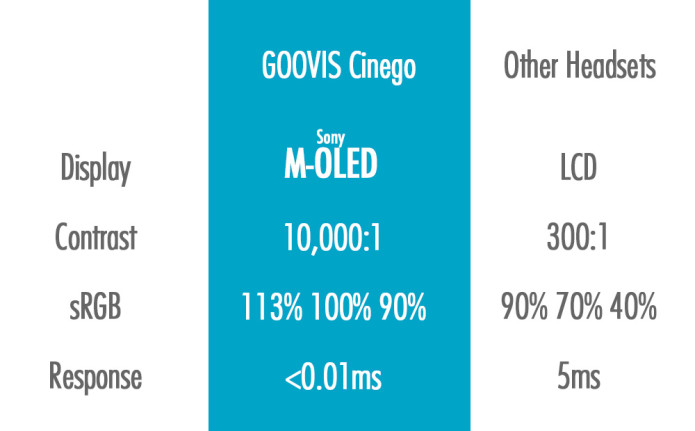 Optical Info:
Optical Modules: 12 optical lenses
Virtual Screen Size: Equivalent to a giant 800" widescreen viewed from 20m
Diopter Adjustment: Ranging from +3D hyperopia to -8D myopia with an accuracy of +/-0.33D; Left/Right eye can be adjusted independently
IPD: 56mm - 72mm
FOV: 53°
Distortion: < 1.5%
Technical Info:
Internal Storage: 32GB
Supporting Storage: Up to 256GB Micro SD card and USB mobile storage disk
CPU: 8 Core Cortex A7 (2 GHz)
GPU: 700 MHZ
Plug in Capability: HDMI, USB, Micro-USB, Micro SD slot.
Bluetooth: 4.0
Wi-Fi: 2.4G/5G dual-mode
Battery: 5900 mAh Polymer Lithium battery
Battery Life: Around 4.5 hours                                          
6-axis Motion-Tracking device that combines a 3-axis gyroscope, 3-axis accelerometer
Headset main body dimensions: 7.3in x 4.3in x 2.2in (185mm x 109mm x 56mm)
Headset main body weight: 7.05 oz (200g)